Highlights
The MicroLab® combines automation and artificial intelligence in an all-in-one oil analysis tool, making on-site oil analysis possible for any fleet.
Simple to use – no special operator required
Fast – results in less than 15 minutes
Easy to read reports – color-coded alarms and maintenance actions
MicroLab 30 is designed for fleets operating over-the-road vehicles or generator equipment. This analyzer best suited for companies interested in testing primarily engine oils to determine the serviceable life of the oil and the equipment condition. The MicroLab 30 analyzes six oil chemistry parameters along with viscosity to determine proper drain intervals. The standard 10 element version provides information on oil contamination and wear metal analysis to determine if mechanical issues exist. The MicroLab 30 can be upgraded to 20 elements if there is an interest to analyze oil additive levels as well as additional wear metals.
Monitoring equipment and oil health with oil analysis
The three automated MicroLab 30 tests provide a complete look at equipment and oil condition.
Mechanical condition parameters indicate potential equipment failure:
– Wear metal analysis
– Contamination (glycol, dirt, water)
​Oil condition parameters indicate potential degradation and contamination:
– Viscosity
– Oil chemistry (Total Base Number, oxidation, nitration)
– Contamination (glycol, water, soot)
– Oil additive levels
The MicroLab offers completely automated analysis, cleaning and reporting, all with a push of a button.
 Chemistry 

 

The MicroLab infrared spectrometer measures six key parameters which indicate potential oil degradation and contamination.
Both the MicroLab 30 and 40 provide:

Oil degradation: oxidation, nitration, total base number
Oil contamination: soot, water, glycol

 Elemental Analysis 

 

The MicroLab Optical Emission Spectrometer quantifies wear metals caused from mechanical components, as well as other elements from oil additives and contamination.

Basic metals include: Al, Cr, Cu, Fe, Pb, Mo, K, Si, Na, Sn
Extended metals include: Ba, B, Ca, Mg, Mn, Ni, P, Ti, V, Zn

 Viscosity 

 

The MicroLab Dual Temperature Viscometer (DTV) provides kinematic viscosity analysis which can identify potential oil degradation or contamination.

Kinematic viscosity at 40°C and 100 °C
Viscosity index (VI)
ASTM Compliance 
The MicroLab is compliant with ASTM D7417 "Standard Test Method Analysis of In-Service Lubricants Using Particular Four-Part Integrated Tester (Atomic Emission Spectroscopy, Infrared Spectroscopy, Viscosity, and Laser Particle Counter)
MicroLab Reports
The MicroLab provides complete analytical data with color-coded alarms and diagnostic statements to guide the technician on recommended maintenance actions. The diagnostic statements can indicate whether an oil change is required or if the drain interval can be extended and it can also identify potential mechanical problems to investigate.
The comprehensive reports:
Save time – compiles and analyzes all test data
Take the guess work out of interpreting results – provides suggested maintenance actions
Save money – no need to hire an analytical resource
Embedded Expert System
The Expert System is the "brains" of the MicroLab, translating analytical data into maintenance actions so the technician or mechanic do not need to interpret the chemistry behind the report; they simply read the service recommendations on the report. Built from over 20 years of industry knowledge and more than 10,000 individual software scripts, the MicroLab's Expert System generates diagnostics that are specific to the:
Equipment application (e.g., automotive, on-road trucking, off-road trucking, generators)
Component type (e.g., diesel engine, gasoline engine, hydraulic)
And often the equipment manufacturer
LubeTrak™ Data Management Software
LubeTrak compiles individual oil reports into a consolidated database of historical information.
Complete Sample History In One Place
Dashboard summary data for quick assessments
sort by date, equipment type, condition (severity) or site
Mobile access
MicroLab Companion Kits
The MicroLab Companion Kits provides customers a complete fluid analysis package to meet the needs for their equipment in a convenient packaged offer. The MicroLab can also accept data from the FerroCheck and Fuel Dilution Meter for a comprehensive report. All MicroLab Companion Kits come with a 5 year subscription to LubeTrak data management system.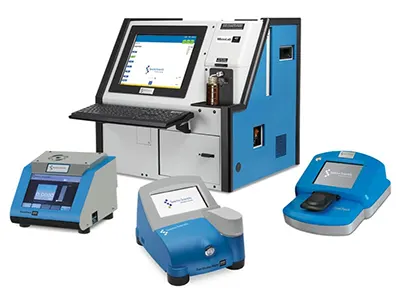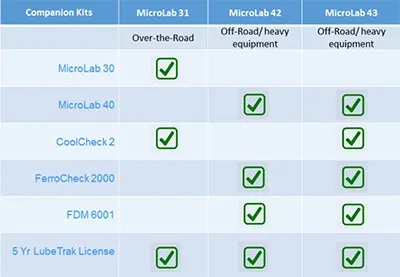 Accessories & Consumables
To keep your MicroLab running in top condition, it is important to use the recommended cleaning and standardization fluids.
CheckFlush is specially designed to clean the lines in the MicroLab between samples. This prevents cross-over contamination and keeps your instrument running its best.
The standardization fluids are designed for calibration of the instrument. Your maintenance practices should follow the prescribed standardization process to ensure your results are accurate.