Highlights
The FerroCheck 2000 Series of portable ferrous analyzers offer accuracy and convenience for total ferrous measurement of in-service lubricating oil and grease. Fast and easy to use samples are analyzed in less than 30 seconds. Small sample volumes of just 1.5 ml of oil or 0.75 ml of grease are needed to measure ferrous content in part per million (ppm) by weight.  The FerroCheck measures the total ferrous content of both small particles from normal machine wear and large abnormal wear particles.
Principle of Operation
The core of the FerroCheck 2000 is a pair of precision rounded coils that when powered, generate magnetic fields. When a small amount of in-service oil is inserted into one of the coils, ferrous particles, such as Iron, Nickel, and Cobalt, interact with the magnetic field and introduce current changes in the coils. The amount of current change is proportional to the amount of Ferrous particles in the oil, calibrated by weight in parts per million (ppm).
The sample vial that holds the oil or grease sample is designed to optimize the position in the measurement coil. Before the measurement, the coils are automatically balanced electrically, removing the impact on measurement from ambient temperature variation. The result is repeatable and stable measurement regardless of operator and environmental temperature, which is critical for a large service team doing on-site oil and grease analysis in the field.
Key Features
Measure total ferrous content in part per million by weight
Measures all ferrous material-normal machine wear and large abnormal wear particles.
Accurate and repeatable
Low limit of detection.
Highly repeatable – 3% of reading
Wide  range of measurement
Validation standard included
Easy to use
Measuring Oil 

Measuring Grease

Solvent- free operation and no sample preparation
​Requires less than 2 ml of sample to test
Results in 30 seconds
Portable, battery powered design
Lightweight and fits easily into a toolbox or carrying bag and capable of operation for over 4 hours before recharge. Plug unit in for continuous use.
Expanded I/O capability
Automated data storage, export files in csv format or use AMS Oilview software interface
ASTM Compliance
ASTM method D8120 "Standard Test Method for Ferrous Debris Quantification"
Field or Laboratory use
Accurate, repeatable and stable results over a wide temperature range, designed for both laboratory and field usage
Rechargeable battery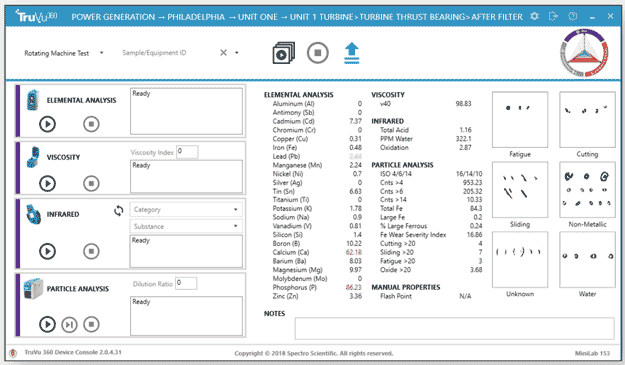 Product Information
PN
Ferrocheck 2000
Ferrocheck 2100
Applications
Lubricant oil
Lubricant oil and grease
Output
Total Ferrous, parts per million by weight
Methodology
ASTM D8120
Standard Calibrated Ranges
0-2,000 ppm, 2,000-10,000 ppm
0-2,000 ppm and 2,000-10,000 ppm for oil

0-2000 ppm, 2000 ppm-15% for grease

Test Time​
< 30 s
Limit Of Detection​
3 ppm
Repeatability​
3% RSD
Calibration
Ferrous standards provided
Instruments
| | |
| --- | --- |
| Part numbers | Instruments |
| 800-00071 | FerroCheck 2000 Ferrous Monitor for oil |
| 800-00069 | FerroCheck 2000 standard accessories kit.  Includes instrument carrying case, dust cover,1000 sample vials, 200 vial stoppers, and oil validation standards. |
| 800-00081 | FerroCheck 2100 Ferrous Monitor for oil and grease |
| 800-00082 | FerroCheck 2100 standard accessories kit. Includes instrument carrying case, dust cover, 1000 sample vials, 300 grease boats and blades, 200 vial stoppers,and oil and grease validation standards. |